2021 Junior Golf Summer Camp Dates (held at Lozano Golf Center)
June 8th - June 10th
June 22nd - June 24th
July 6th - July 8th
July 20th - July 22nd
August 3rd - August 5th
Full Day Camp Details
9:00am - 4:00pm
$250 non-member or $200 for Play Better Golf members
For Juniors ages 9 - 18
Includes snacks, refreshments and lunch
On course play, a gift and a golf rules book
Putting, Chipping, Pitching, and Bunker Instruction.
9-hole tournament is included. Parents are welcome to watch.
Taught by Mat Charles, Lozano's Director of Better Golf at Lozano Golf Center
Half Day Camp Details
9:00am - 12:00pm (noon)
$125 non-member or $100 for Play Better Golf members
Camps for ages 6 - 8 and 9+ in age
Includes snacks and refreshments.
On course play, a gift and a golf rules book
Taught by Mat Charles, Lozano's Director of Better Golf at Lozano Golf Center
What if my kid has never played golf?
That's exactly why we created our Junior Academy and Summer Camps! Oso Beach and Lozano Golf Center are dedicated to creating the best golf instruction experience for families.
We believe that the majority of golf instruction makes the golf swing more complex for kids than it needs to be. Our program helps students improve their play by reducing the golf swing into simple and easy to understand terms and movements and adding in fun games with each class to put their practice to work. We believe everyone can improve at golf by balancing continuous instruction, practice and play.
Sign up for one of our Summer Golf Camps.
Use the form on this page to sign up, or please contact our Lozano Golf Pro Shop at (361) 826-8016.

Mat Charles (pictured), Director of Better Golf at Lozano Golf Center
Meet Your Instructors:
Jay Monte is currently the Golf Professional at Lozano Golf Center. Jay has over 25 yrs. of experience within the golf industry and claims he hasn't "worked a day" in almost three decades . He played at the collegiate level for Henderson State University and then as a professional on the mini tours.
Mathew Charles is an accomplished golfer from Carroll High School and played collegiate golf at The University of Texas Pan American. Mathew currently assists in our "Play Better Golf" program. He has been a Golf Professional at Lozano Golf Center since 2015 and we still haven't seen him without a smile.
Junior Golf Academy - What is it?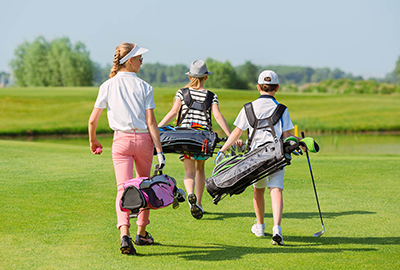 Our Junior Golf Academy is a golf membership for Youth golfers that encourages golf instruction, practice & golf course play! It is the only membership offered at Lozano Golf Center for golf course play & range balls with some instruction built into the program! The program is designed to offer quality golf lessons for improvement, practice range balls, free greens fees on our 9 Hole Executive Course and free greens fees on our 18 Hole Championship Course after 3:00pm.
As of 2018, Lozano became a certified Operation 36 location in the state of Texas. Lozano Golf Center is dedicated to creating the best golf instruction experience for families. Mat Charles, the Director of Better Golf, utilizes the #1 internationally run family coaching program known as Operation 36. Operation 36 consists of a network of passionate coaches from around the world dedicated to growing long-term learning environments for all ages and abilities. Mat also combines the Junior Golf Program, which provides the parents and players with the tools, content, and resources needed to have a positive and meaningful youth golf experience. Our team at Lozano believe that to grow the game of golf we need to not only introduce more to the game, but help more enjoy playing golf. The mission is simple: provide a programming road-map to progress golfers toward shooting par or better for 9 holes!
$79 + tax for Monthly Membership Dues
Included in the membership in our Junior Golf Academy:
Junior Golf FREE access
Operation 36 App Access
USGA Ghin Handicap
(2) "individual" private lessons per month
(4) "group" lessons per month - Practice is on Saturday from 12:00pm - 1:00pm
Our Junior Golf Academy program is about reaching our 5 to 18 year-olds with aspirations for making and competing on Junior High, High School and College Golf teams
Unlimited Range Balls for Youth member
FREE Greens Fees on the 9 Hole Executive Course anytime (some restrictions may apply and cart not included)
FREE Greens Fees on the 18 Hole Championship Course during the week and after 1pm on weekends (some restrictions may apply and cart not included)
FOR MORE INFORMATION please contact the Lozano Golf course at (361) 826-8016 or fill out the contact form on this page.
Download our Parental Waiver Form:

parental-waiver-form.pdf